Pastor Jeremy Levi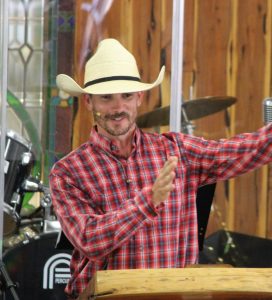 I grew up in a Christian home and went through all the motions of Church as a young man I never really had a relationship with God.
I've always believed in God, but my constant thoughts and dreams at that time were to be the best darn cowboy ever. I loved being outdoors doing cowboy things. I put God on the backburner.
I took a break from my treasured cowboy lifestyle in 2001 and joined the military for a career right after 9-11. I was a good Marine, but there was an emptiness inside me that I assumed was missing the cowboy life.
I came back to where I belonged and worked on ranches across the country.
Once again, I put all my efforts into being the absolute best. I woke up thinking about it, practicing it, reading about it, surrounding myself with the best and went to sleep thinking about how I could be a better cowboy.
In 2009, I again found another emptiness that needed filling. Perhaps I was searching for my real purpose in life. Then it hit me. This is how Christ calls us to follow him to spread his holy Word to those in the wilderness. I surrendered to Jesus and my mission today is to carry the Gospel to cowboys and to show His love to those beyond my culture.
With the help of my godly and beautiful wife, two sons and daughter, I pastor RRCF and am a independent farrier in the Hondo, Medina and Bandera area's. I am enjoying life as Jesus wants me to live. By His Grace and Mercy, my life is now complete. He leads me down the path He wants me to travel.
Associate Pastor Jeff Bishop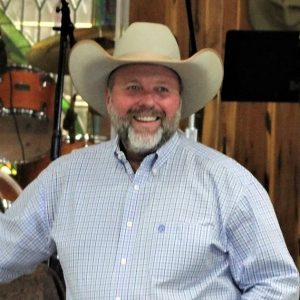 God works in mysterious ways and I am so glad he led us to establish Ridin' the River Cowboy Fellowship. It all started with meetings attended by few at the Twin Elm Guest Ranch. As winter approached, we saw the need to move indoors. This led to a few months at the city's arena to moving our growing congregation to the old Bandera Downs racetrack. It was comfortable, but the building was beginning to be too small to hold new attendees. With God's grace and mercy, He led our leaderships to purchase 17 acres of land outside Bandera and erecting our new home.
I am in awe of what God has done in my life and family's through Jesus Christ.
My prayers are that I continue to grow closer in my relationship with Jesus and that His Holy Spirit will give me clarity to be bold in my faith, uncompromising in His Word and unapologetic in living the example Jesus has given us.
I pray I will learn to pray with more intensity and love of all people in and beyond our culture and how I worship the Lord in a raw and real way outside our church building. I strive to shepherd in a manner worthy of the calling of Jesus Christ and to make a difference in our part of the world.
I have been a cowboy church pastor since 2002. This calling is where my wife Kim and I have felt at home.
In 2010, Kim and I began to pray that we would follow the Lord's guidance and direction. God has opened many doors for me and I answered His direction to establish a new cowboy church in Bandera, Texas. We moved to the Texas Hill Country in two horse trailers and a U-Haul truck and it has been a wonderful ride ever since.
God is leading people of all types to our congregation. We are a "come as you are" type group. We value the simplicity of worshipping the Lord while not compromising Biblical Christianity.