2023 COWBOY CAMP Pre-Teens
July 12 @ 8:30 AM

-

July 15 @ 6:30 PM
Online Registration click below;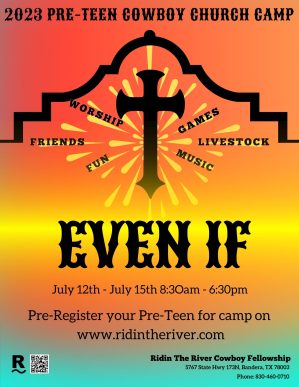 Camp Verse – "But even if he does not, we want you to know, Your Majesty, that we will not serve your gods or worship the image of gold you have set up." Daniel 3:18
---
DRESS CODE –  RRCF COWBOY CAMP is a Christian event, and we should seek to represent Jesus Christ in  every aspect.  All group leaders, cook team and other volunteers are to follow the dress code as well.
Shorts must be modest in length.  No short shorts.
All pants, jeans, shorts must have waistbands
Shirts must cover the entire torso.   No midriffs or bellybuttons are to be seen when arms are raised.
No spaghetti straps or tank tops.
Shoes must be closed toe; tennis shoes or boots (no flip flops, crocks, Hey Dudes etc.)
All clothing must be appropriate and cannot advertise any alcohol or tobacco products.
Clothing that represents things contrary to Christianity (i.e. satanic, inappropriate language or sexual content, etc.) cannot be worn.
---
RULES – RRCF Rules are designed to help us conduct ourselves in ways that reflect Christ in all we do.
Alcohol, illegal drugs, tobacco, knives, guns, pets, or headsets are not permitted.  These items will be confiscated and returned at the end of the day.
Cell phone usage is permitted only during free time or in case of emergency.
Please respect all church properties.   We ask you to assist in keeping the grounds clean of trash.  Trash cans will be in all areas for use.
All Clothing must meet the dress code listed above.
Pre-teen's/Teen's must attend scheduled activities.
PDA (Public Display of Affection) will not be tolerated.
Pre-teen's/Teen's are not allowed to share any medication belonging to them with any other student.   All medication must be checked into the camp nurse.
Pre-teen's/Teen's are not allowed to ride livestock and/or tend to livestock without a camp staff present.
Pre-teens/Teens will stay in their assigned herds.